military
Submitted by Elizabeth on 11 February 2010 - 7:46pm
File Under: Research methods 101 > Survey Construction > Question wording
Constructing a survey on support for the repeal of "Don't Ask Don't Tell"? Keep this in mind: Democrats in particular are much more likely to support letting gays and lesbians serve openly in the military than they are to support letting homosexuals serve openly.
Dalia Sussman, writing for The Caucus (the politics and government blog of the New York Times) describes a New York Times/CBS News poll which found that 60% of respondents who were asked whether gays and lesbians should be able to serve openly in the military said yes. On the other hand, only 44% of those asked whether homosexuals should be allowed to serve openly agreed that they should. And Sussman says that political orientation mattered a great deal:
Submitted by Elizabeth on 27 May 2008 - 4:15pm
Yesterday was Memorial Day in the United States, a day that typically means barbecues and parades and the honoring of those who serve the military while remembering those who have served and lost their lives.
Unless those who serve are gay. Because gays, lesbians and bisexuals are prohibited from serving openly, theare rendered invisible, and face losing their jobs if they are open about their sexualities. Because of the policy known as "Don't Ask, Don't Tell" (DADT) more than 12,000 service members have been dismissed because of their sexual orientation since 1993 according to Lamda Legal.
Submitted by JanieBelle on 27 August 2007 - 6:55pm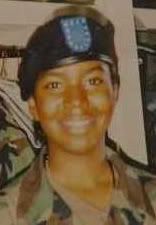 By all accounts, LaVena Johnson was a happy, healthy, strong young woman when she joined the military as a supply specialist.
A few months later she was dead in Iraq, a victim of a non-combat gunshot wound to the head. As bad as the news of the death of their daughter, was the discovery of substantial evidence that she was raped, murdered, and her body twice set afire in a failed attempt to cover up the crimes. The United States Army is refusing to re-open the hitherto lackluster and barely cursory investigation into LaVena's death, and in the face of this mounting evidence, their refusal is beginning to reek of a cover-up.